VP cart Converge Payment Processing


Real-Time payments also available!
---
Elavon Converge (formerly Virtual Merchant) Gateway
Integrated with VP cart
---

Credit Card and ACH integrated payment processing using VP cart through the Virtual Merchant (Converge) gateway from Elavon. Our gateway supports one-time and recurring as well as refunds through the VP cart admin interface. All transactions are handled by VP cart using this gateway and customers will not have to leave your website in order to complete transactions.


---
Shopping Carts
Looking for all-in-one solution for VP cart? Look no further.
Shopping carts provide a great way to quickly build an online store, but before you can capture any sales you'll need to integrate with a payment processor. That's where Elavon comes in. Our Converge payment gateway is compatible with many leading shopping carts including VP cart.
VP cart Credit Card & ACH Processing
Processing Fees
Discount Fee -

starting at only .1%

Transaction Fee -

starting at only 10¢

Monthly Fee -

$19

Application Fee -

$60

Time to Funding - Same-Day!
This is a perfect choice for small businesses and startups.
Real-Time Credit Card & ACH Processing
Stay on your website
Single time processing
Recurring processing
Valid SSL is Required
Converge API
Need ultimate control and flexibility? Integrate VP cart
Integrating with our API is the ideal solution if you're looking to maintain control of the end-to-end shopping experience for your customers. You collect the cardholder's information and we handle the processing. As always, our focus on security means that your customers' data will be kept safe throughout the payment process.
---
High Risk Merchant Processing
Domestic

Offshore

Thousands of merchants trust us to process their transactions and GET PAID. High Risk merchant transaction processing is a relatively complex process and should not be trusted to someone other than "true professional processors". Our credit card merchant services will let your business flourish in a friendly and hassle-free environment. Learn More
---
VP cart Payment Gateway integrations
This module allows you to process transactions in VP cart through the Converge gateway (formerly known as Virtual Merchant). This is the gateway generally provided by Elavon and its associated resellers.

How To Update Your V8 Elavon/Converge/Virtual Merchant Gateway To Use Their New TLS 1.2 API URLs

How To Update Your V8 Elavon/Converge/Virtual Merchant Gateway To Use Their New TLS 1.2 API URLs
Recently Converge has announced about their upcoming SHA 2/TLS 1.2 migration occurring on October 31st, 2017.

For this purpose, any VPCart customers (v8) that are using this Elavon/Converge/Virtual Merchant gateway (Direct Post) will need to immediately update the Converge gateway location URLs to use the new ones.

Please follow these steps below :

1. Login to your VPCart administration.

2. Go to top menu and mouse over to : Advanced Settings > Software Configuration.





3. Try to enter xvmdp into the search box and click the Search button.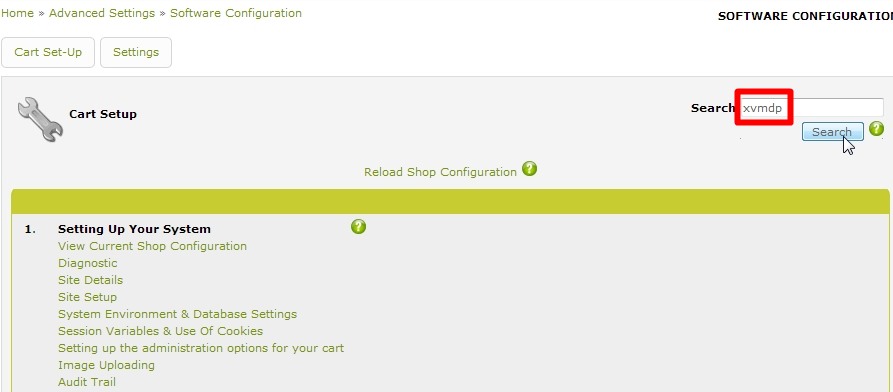 4. In the list of result, locate config xvmdp_DEMO_GATEWAY_LOCATION, please update the value to : https://api.demo.convergepay.com/VirtualMerchantDemo/process.do





5. In the list of result, locate config xvmdp_GATEWAY_LOCATION, please update the value to : https://api.convergepay.com/VirtualMerchant/process.do





6. Click Continue button.

After this, any payments on your VPCart site using the Converge gateway will use the new API URLs.

For Business Ready Plan customers, we can update the above for you, please submit a helpdesk ticket to us for this.

For customers that use Virtual Merchant/Converge/Elavon gateway on older versions (V7, V650, V6.00,V5) we would suggest you to upgrade to latest version V8 and download the latest Converge gateway from : https://www.vpasp.com/sales/epdownload800.asp

If older versions customers that use Converge gateway and do not yet planning for upgrade to latest VPCart version, you can submit a ticket into our helpdesk and we can quote on updating your Converge gateway files to latest API URLs.
---